Sometimes we stumble upon some of the most amazing finds!
Have you ever heard of Sampler Village? Well, we hadn't until the other day. What a cool place!
Here is the jist...each month a sampler box is assembled with contributions from artisans and crafters from all over. Traci, the owner of Sampler Village, assembles these boxes using one item from each contributor. This means that you can potentially receive quite a treasure chest full of goodies. What an ingenious way to promote items!
We will be contributing in the coming holiday months. Look for our party items to be included.
Follow this link to visit Sampler Village
www.samplervillage.com/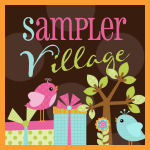 Until later,
Leslee